Best Galaxy S9 Plus replacement battery
Image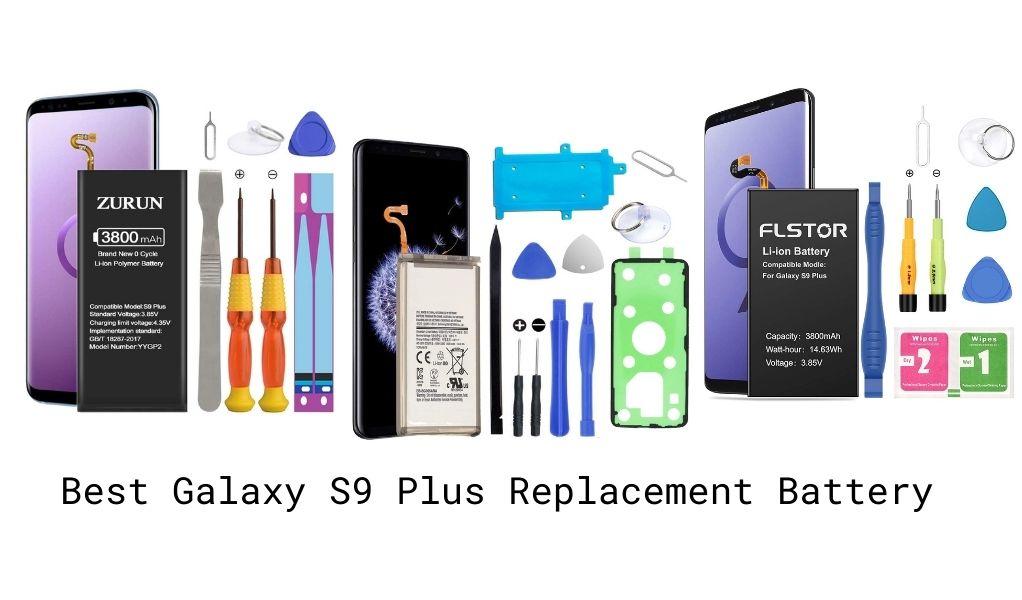 Galaxy phones offer great features and long battery life, but even the best smartphones require a little extra help to elongate their usage and life! Replacing your battery is a great way to retain your phone while getting optimal battery life for a long time. We've rounded up some great replacement batteries for the Galaxy S9 Plus phone that are a perfect fit and offer efficient and high-power charging.
All these options come with repair tools and accessories that make it easy to replace the battery on your own. Scroll below for a detailed set of instructions on how to replace the Galaxy S9 Plus battery as well.
Top Galaxy S9 Plus replacement battery
How to replace the Samsung Galaxy S9 Plus battery?
Things you will need -
Small Phillips head screwdriver
Prying tools
Suction cup 
Tweezers
SIM card ejector tool
Hairdryer
Step 1 -
Turn the Samsung Galaxy S9 Plus smartphone off and remove the SIM and SD card tray.
Step 2 -
Using a hairdryer, heat up the back cover especially around the edges by moving it around for about a minute. Once the adhesive holding the rear plate and phone frame together is loose enough, take a suction cup to put pressure upwards until the back lifts a little and you can see a gap.
Step 3 -
Take the prying tool and move it between the two from on all the sides, removing the adhesive and releasing the back cover. Make sure to be careful with the prying tool that you insert so you don't damage any components inside.
Step 4 -
Slowly lift up the back cover once released from the adhesive and disconnect the flex cable for the fingerprint scanner before you can completely free it from the frame.
Step 5 -
Using the small Phillips head screwdriver, remove all of the small Phillips head screws that are holding down the back frame.
Step 6 -
Wedge the prying tool under the wireless charger pad to remove the underlying adhesive and lift it up out of place.
Step 7 -
Disconnect the battery cable and pull it back to remove any remaining electricity flow into the phone.
Step 8 -
To completely remove the battery and replace it, you have to first heat up the front of the phone to loosen up the adhesive that is holding the battery down to the frame. Using the same method as before, carefully heat the LCD screen.
Step 9 -
Wedge the plastic prying tool in between the battery and the frame and pull up on it gently to let the battery slide out.
Step 10 -
Replace the old battery for a new one and follow the steps in reverse order to put the smartphone back together.
{"preview_thumbnail":"/sites/default/files/styles/video_embed_wysiwyg_preview/public/video_thumbnails/gkjrUEJ7DSk.jpg?itok=l2RYKZBS","video_url":"https://www.youtube.com/watch?v=gkjrUEJ7DSk","settings":{"responsive":1,"width":"854","height":"480","autoplay":0},"settings_summary":["Embedded Video (Responsive)."]}