Best iPad Pro 1st, 9.7'' replacement battery
Image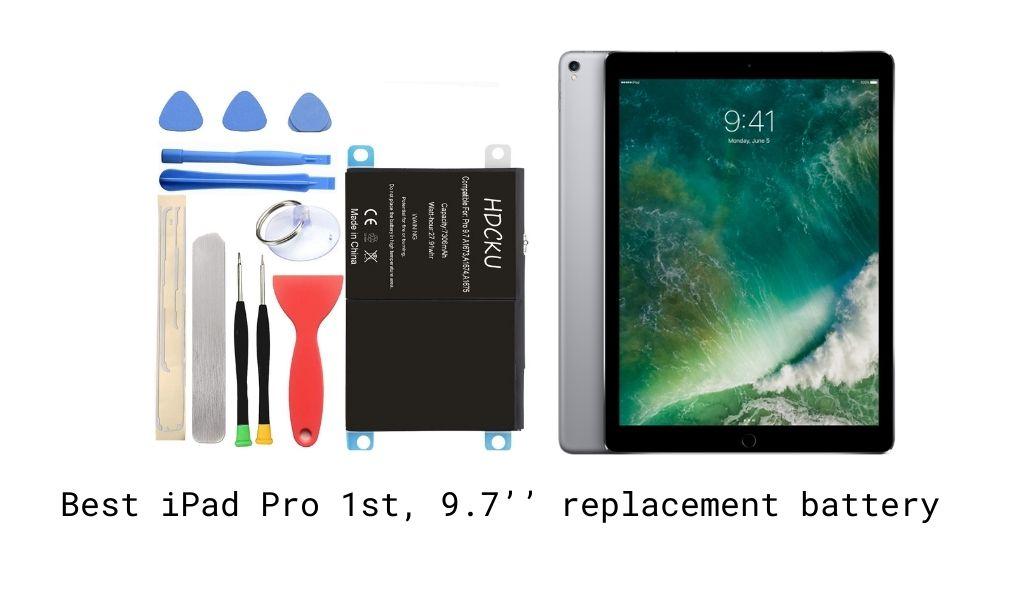 | Battery | Check Current Price |
| --- | --- |
| HDCKU A1664 Battery Replacement Kit for iPad Pro 9.7 inch | View On Amazon |
| Vvsialeek Replacement Battery for iPad Pro 9.7 | View On Amazon |
Replacing your iPad Pro (1st, 9.7'') battery is a smart move when it comes to elongating the life of your tablet. The iPad Pro (1st, 9.7'') is a great device that is flexible and offers ease whether for professional or personal use. Choose one of the replacement options available in the market since they are as good as the original battery your iPad Pro (1st, 9.7'') comes with.
Here are some of the best options to pick from.
How to replace the iPad Pro (1st, 9.7'') battery?
Step 1 -
Using the heat gun, heat up the outside perimeter of the touchscreen to soften the adhesive. 
Step 2 -
Use the plastic opening tool on the touch screen edge and a suction cup to separate it from the bezel of the iPad. Wedge in a triangle opening tool in the separation so that the adhesive doesn't come back in contact with itself as you continue working on the touchscreen.
Step 3 -
Unscrew the three screws on the screen connector cover and disconnect them.
Step 4 -
Next, move to the screws on the mainboard cover and lift the cover from the bottom when they all are released.
Step 5 -
Heat the back of the battery to loosen it and remove the screws so you can lift up the battery little by little using a plastic tool.
Step 6 -
Remove the cover and disconnect the connector to raise the battery and mainboard together and finally remove the battery.
Step 7 - 
Replace the battery and follow the steps in reverse order to put the iPad back together in working order.