Best Replacement Battery For Galaxy Note 8
Image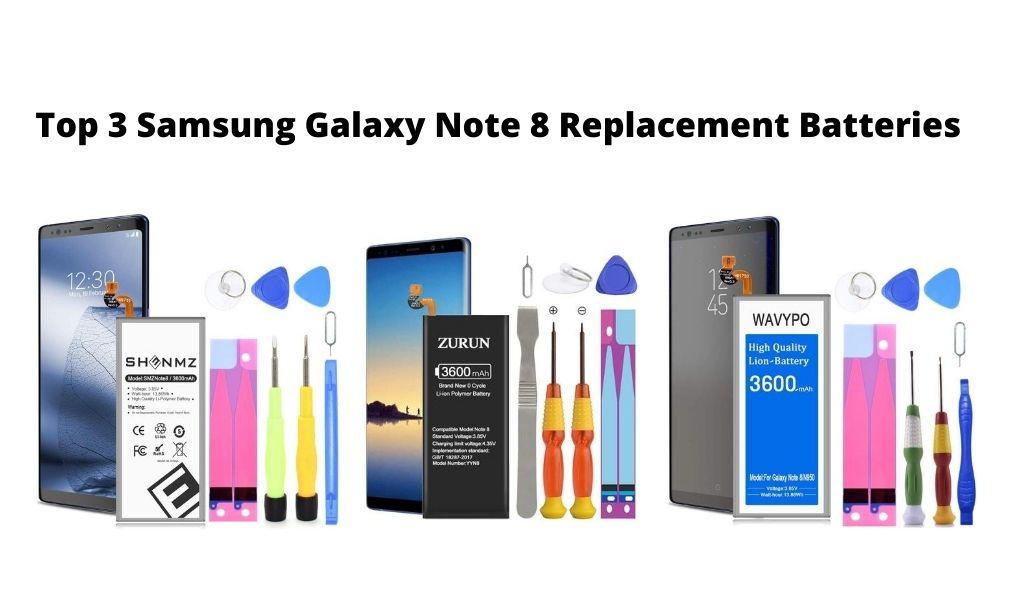 Phone batteries often lose their initial power capacities with the heavy apps and games we use on our smartphones. For this reason, finding the right replacement battery can be the best solution instead of completely replacing your old phone! If you own a Samsung Galaxy Note 8, then there are several high-quality replacement batteries that will perfectly and replenish the phone's initial battery power.
 
When you've replaced your battery, you would expect it to work just as well, if not better than the original one. Battery capacity and usage times depend on the phone's hardware, software configurations, as well as network settings.
Best Replacement Batteries For Samsung Galaxy Note 8
How to replace the Samsung Galaxy Note 8 Battery?
Things you will need -
Nylon spudger
SIM card ejection tool
Fine tip curved tweezers
Precision knife set
Premium 2 mm red adhesive roll
Phillips multipurpose heat gun
Screwdriver
Playing cards 
Step 1 -
Shut down the Samsung Galaxy Note 8 phone and remove the SIM card and microSD card tray using the SIM card ejection tool, as well as the pen from the top.
Step 2 -
The phone's display screen is solidly glued on with a tight fit on the frame. To loosen it up, apply heat to the edges and soften up the adhesive.
Step 3 -
Next, using the precision knife, make enough space to insert a playing card inside and use the card to slice through the sticky adhesive, carefully decoupling the screen from the phone's frame. Keep in mind to not remove the display completely as it is still connected to the phone.
Step 4 -
Remove the very short fingerprint sensor cable connected to the motherboard before completely moving the screen out of the way.
Step 5 -
Using the nylon spudger, remove the fingerprint reader from the adhesive that keeps it in place on the rear panel.
Step 6 -
Remove the 16 Phillips screws you see and then pry out the mid-frame, NFC antenna, and key wireless charging coil combo. Now, you can also easily lift out the bottom loudspeaker assembly.
Step 7 -
Finally, disconnect the battery cable from the motherboard, allowing you access to remove the battery. It is wedged tightly in place and needs to be freed from the adhesive securing using the spudger.
Step 8 -
Replace the old battery for the new one and start assembling the phone back in reverse order.
{"preview_thumbnail":"/sites/default/files/styles/video_embed_wysiwyg_preview/public/video_thumbnails/f9C2GqTg_H0.jpg?itok=tXpr18ca","video_url":"https://www.youtube.com/watch?v=f9C2GqTg_H0","settings":{"responsive":1,"width":"854","height":"480","autoplay":0},"settings_summary":["Embedded Video (Responsive)."]}