Top 3 iPhone 8 Plus Replacement Battery
Image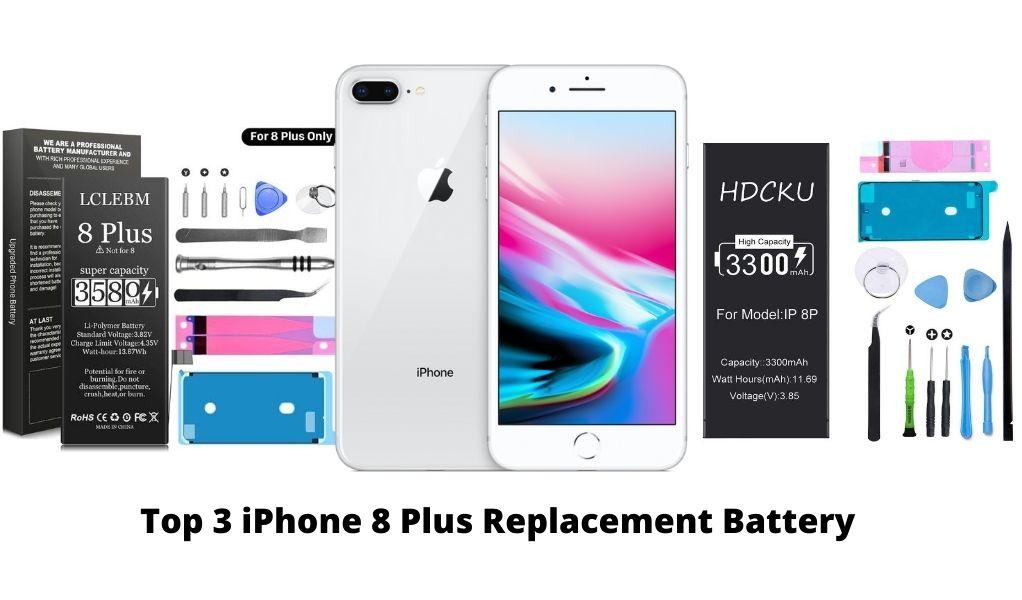 | Battery | Check Current Price |
| --- | --- |
| LCLEBM Replacement Battery for iPhone 8 Plus - 3580mAh | View On Amazon |
| HDCKU Battery Replacement Kit for iPhone 8 Plus - 3300mAh | View On Amazon |
| ElephantStory Replacement Battery for iPhone 8 Plus - 3300mah | View On Amazon |
Replace your iPhone 8 Plus battery to help revive your phone and renew your experience of using its technology! Over time, all smartphones tend to reduce battery power and require more frequent charging. The same goes for Apple phones, whether they are renewer models or older ones. If you have the iPhone 8 Plus and want to retain the smartphone while increasing its battery life, buy a replacement battery to do so easily.
 
There are several trustworthy brands in the market that can be used and most of them also come with a higher battery capacity than the original Apple one. Here's a list of the best replacement batteries for iPhone 8 Plus.
How to replace the battery for iPhone 8 Plus?

Things you will need -
Y double zero or Tri-wing screwdriver
Pentalobe screwdriver that
Standard double zero Phillips head screwdriver
Tweezers 
Plastic prying tool or spudger
Suction cup
Triangular plastic pick tool 
Metallic tool 
Step 1 -
Shut down your Apple iPhone 8 and eject the nano-SIM card tray.
Step 2 -
Remove the two bottom 3.4 mm Pentalobe screws located next to the Lightning connector.
Step 3 -
Place the suction cup as close as you can to the home button and lightly pull upwards.
Step 4 -
Use the metallic prying tool and sneak it in right below the home button, moving it from left to right to separate the screen from the frame as it is glued around the edge with waterproof tape. Slice through the adhesive and carefully decouple the display assembly. 
Step 5 -
Open the screen up like a book but don't remove it completely as it is still connected to the phone by cables. 
Step 6 -
We first need to disconnect the battery cable by removing the battery cover that is secured by 4 Phillips head screws. After removing the screws, you can remove the cover using a plastic prying tool.
Step 7 -
Get underneath the battery connector, which is the second one from the bottom, and snap it up like a Lego to disconnect and move it out of the way.
Step 8 -
The Apple battery is attached to the phone with 4 pull tabs. Start by loosening up a corner with your plastic prying tool and pull it away from the battery slowly. Start by removing the PLAs from the corner and then pull up on the tabs a little at a time.
Step 9 -
Once you are able to get as many tabs as you can out, pry the battery out using a metal or plastic tool and it is now free from the phone.
Step 10 -
Replace the old one for a new battery and reassemble the phone by following the steps in reverse order.
{"preview_thumbnail":"/sites/default/files/styles/video_embed_wysiwyg_preview/public/video_thumbnails/PeYDMKXQ9A8.jpg?itok=eB0m7sUZ","video_url":"https://www.youtube.com/watch?v=PeYDMKXQ9A8","settings":{"responsive":1,"width":"854","height":"480","autoplay":0},"settings_summary":["Embedded Video (Responsive)."]}