Top iPad 5th generation battery replacement
Image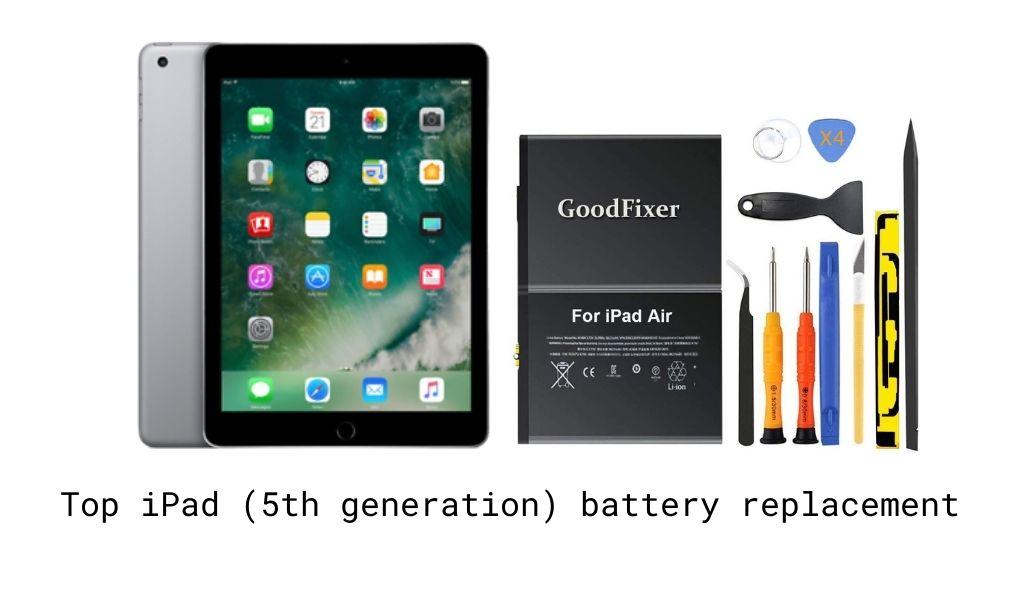 | Battery | Check Current Price |
| --- | --- |
| GoodFixer Battery Replacement for iPad 5th Generation | View On Amazon |
| Upplus Replacement Battery for Apple iPad 5 | View On Amazon |
| REYTRIC A1484 Replacement Battery for iPad 5 | View On Amazon |
Upgrade your iPad's 5th generation tablet by elongating its battery life. This can be easily done by replacing the original battery with a new one that has the same specifications. There are several options available in the market to help you ensure your iPad (5th generation) can be used as long as possible. 
We've put together some of the best options to replace your iPad 5th generation battery. You will also find instructions on how to change the iPad's 5th generation battery.
How to replace the iPad (5th generation) battery?
STEP 1 -
Using a heat gun, properly heat up the front and back of your tablet to separate the screen from the body. 
STEP 2 -
Once completed, use a suction cup on the sides to lift the front screen and insert a plastic pry tool in between, unsticking the adhesive.
STEP 3 -
Next, you can take off the LCD screen by undoing the four screws on all corners and removing the sticky tapes that are covering the screw heads.
STEP 4 -
Move the screen to a 90 degree angle and then disconnect the plug by undoing the three screws. Now you can unplug both touchscreen connectors by the socket and then peel the tape. 
STEP 5 -
Take out the touch id connector and loosen up the logic board by undoing the screw on top of the battery connector and then insert a pry tool next to the connector. Doing so will create a gap between the board and the body.
STEP 6 -
Next, insert a pry tool by the bottom edge of the logic board till it raises enough to take out the battery connector. 
STEP 7 -
To remove the battery, you may need some more heating on the battery side. Apply heat to release the adhesive at the bottom.
STEP 8 -
Raise the battery slowly as the bottom adhesive can be strong. Replace it with the new one and follow the steps in reverse order to put your tablet back.
Category