Best iPhone 7 Battery Replacement
Image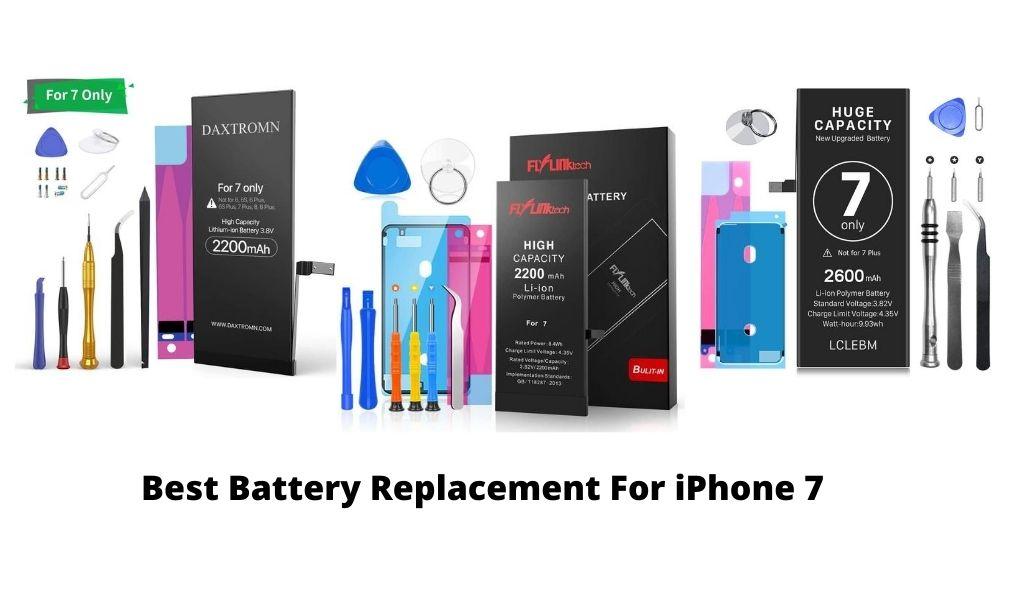 | Battery | Check Current Price |
| --- | --- |
| Flylinktech Battery Replacement for iPhone 7 - 2200mAh | View On Amazon |
| LCLEBM Battery Replacement For iPhone 7 - 2600mAh | View On Amazon |
| DAXTROMN Battery Replacement for iPhone 7 - 2200mAh | View On Amazon |
Most users believe that Apple phones cannot be opened up and once your battery starts malfunctioning, it is the end of the phone's life. On the contrary, not only can you easily open up the phone, but you can also replace the battery without the need for professional help! There are several high-quality Li-Ion batteries in the market that are created to fit this particular phone model without any problems.
 
Quick tips for battery installation 
Make sure your phone's battery is under 25% and turn it off before you begin your Apple iPhone 7 phone battery replacement.
Check that your replacement battery is the right fit, size, and model for your Apple phone.
Get all the necessary tools required to carry out the installation without hiccups.
Make sure to follow the steps properly for opening up the phone and it is recommended you watch a YouTube video for the same.
It takes about 3 to 5 charging cycles for the new battery to completely work properly. Make sure to drain the battery completely and then charge it for the first couple of times as well.
Top 3 Apple iPhone 7 Replacement Battery
How to replace your Apple iPhone 7's battery at home?
Things you will need -
Small Phillips screwdriver
Small flat-head screwdriver
Plastic opening tools
Suction cup
Spudger 
SIM card ejection tool
Fine tip curved tweezers
iPhone 5-point Pentalobe screwdriver
A heat gun or a blow dryer
Step 1 -
Turn off the phone and remove the 2 Pentalobe screws at the bottom.
Step 2 -
Use a suction cup to free the screen from the waterproof adhesive around the edges and use a pry tool for lifting up the screen without bending it. Slice through any remaining adhesive on the side and the screen will open up like a book.
Step 3 -
Sensitive ribbon cables attach the screen to the phone, so you can't completely remove the screen yet. Using the Y000 tri-point bit screwdriver, remove the 4 screws holding the metal plate down.
Step 4 -
Remove the metal plate and you will see the ribbons that can be unsnapped just like a Lego piece.
Step 5 -
Some people would suggest removing the oversized motor at the bottom to get better access to the pull tabs, but you can go ahead without removing any extra components. These pull tabs are very fragile but when pulled correctly, the adhesive stretches out right from underneath the battery without heat or any prying. Make sure you do this without breaking the adhesive. If you are unable to do so, use the prying tool.
Step 6 -
Once both the pull tabs are out, the battery is completely free and ready to be replaced. Plug the new battery in and follow the steps in reverse order for putting the Apple iPhone 7 back together.
{"preview_thumbnail":"/sites/default/files/styles/video_embed_wysiwyg_preview/public/video_thumbnails/e743HCkxfks.jpg?itok=PqdVdXPl","video_url":"https://www.youtube.com/watch?v=e743HCkxfks","settings":{"responsive":1,"width":"854","height":"480","autoplay":0},"settings_summary":["Embedded Video (Responsive)."]}