Best Replacement Battery For Galaxy Note 5
Image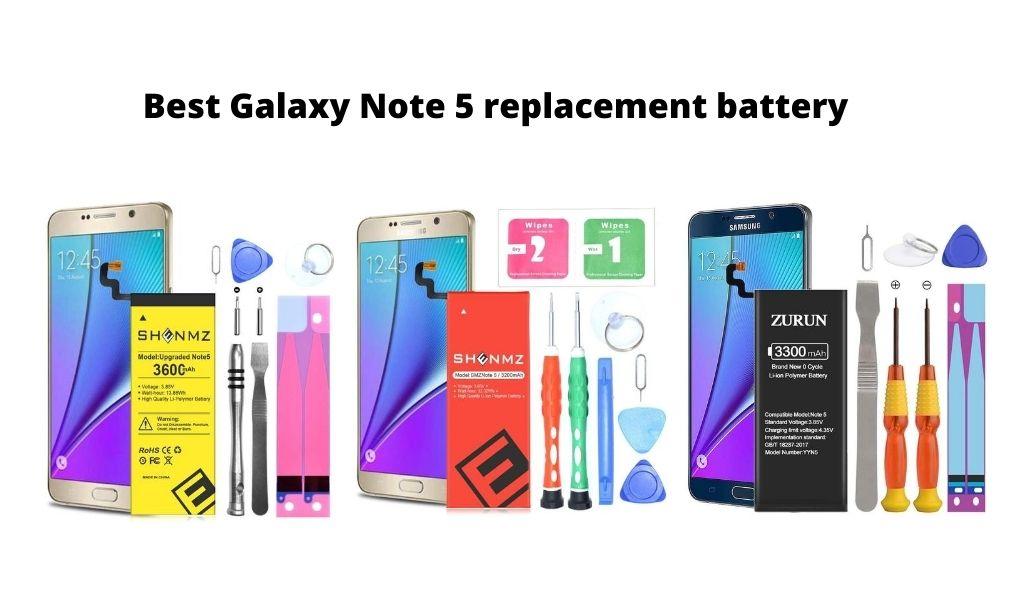 Has your Galaxy Note 5 reached its old adage? Don't fret because we have the solution to your battery problem right here: we will give you recommendations of our top picks battery replacements for your Galaxy Note 5 and show you what it takes to replace it.

When you're eyeing for the latest cellphones out in the market, what specifications do you usually look up first? Storage and memory? Perhaps, the display properties? I know you will all agree with me when I say that no one would ever fail to look at the battery capacity of a smartphone. Battery longevity is most probably the very first thing you're going to look up when browsing the latest smartphone. The questions about the battery vary from "will the battery last for Netflix and chill casting the whole day?" to "how long will it last if I'm playing Pokemon Go?".

However, just like human life, every smartphone reaches its old adage. Time will pass by, and we all know that the battery performance will soon deteriorate. It has already passed its glory days, just like humans. The battery performance is no longer what it was when you first bought it. Gone are the days where you can play Pokemon Go for 12 hours straight on your smartphone. Maybe your phone can no longer sustain the whole day to match your lifestyle. The battery life of your smartphone, which may be the primary reason why you bought it in the first place, is now the primary reason for the smartphone's problem.

The products that we listed here all come with a set of tools you can use to replace your batteries. We select them based on their number of positive reviews from customers, and by history, they have on the marketplace.
Below Are Our Top Picks Galaxy Note 5 Battery Replacements
 Afraid that you might do something irreparably wrong to your battery because you don't know how to replace it? We got you covered! We have here uncomplicated and definitely jargon-free step-by-step procedure on how to replace your battery:
Turn the phone's power off and take out the sim card tray.
Heat up the glass back cover for about 2 minutes.
Heat up the bottom side repeatedly.
Use the suction cup to open a gap on the bottom.
Insert the guitar pick to hold the gap
Use the guitar pick to cut the adhesive at the bottom.
Slide the guitar pick to cut the adhesive of two sides, but you have to be careful about doing this since some sides have strong adhesive.
Heat up the top side to melt the adhesive.
Slowly lift up the back cover.
You will find in your phone 20 screws; unscrew them.
Take out the S pen
Push out the middle frame carefully.
Separate the middle frame and front housing assembly
Remove the battery
Loosen the adhesive underneath the battery to remove the battery completely
Still, confused? You can view this video for a visual guide in the battery replacement procedure: 
{"preview_thumbnail":"/sites/default/files/styles/video_embed_wysiwyg_preview/public/video_thumbnails/ZPbSLAW6rY8.jpg?itok=u6fz5_vF","video_url":"https://www.youtube.com/watch?time_continue=131&v=ZPbSLAW6rY8&feature=emb_title","settings":{"responsive":1,"width":"854","height":"480","autoplay":0},"settings_summary":["Embedded Video (Responsive)."]}